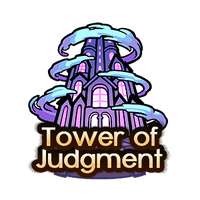 Tower of Judgment are quests that can only be done by the player alone, with CPUs accompanying them. These quests unlock for players when they reach Rank 18. Additionally, players can only use the Monsters they have equipped for Unison once per run of the floor quest.
Some floors are restricted to a specific Class only, and have separate floors for each class. Players can get ATK/MATK bonuses for equipping the appropriate Weapon Type for the Class of the quest as their Main Weapon slot. Players will not receive these bonuses otherwise.

For the Story, see Story/Tower of Judgment.
Single player only
Continue option unavailable
The same Monster cannot be used in a Unison Attack twice.
Allied NPC character strength is determined based on player stats, Elemental ATK/DEF, Abilities, and Monsters equipped.
From the 16F on, allied CPU characters that match your Class will have the same ATK, MATK, DEF, and MDEF
Weapons of specific Classes will have a greater effect on Monsters (enemy NPC) from 16F and above. Weapons of a certain Class will be effective in that Class's Area.
Example: Swords and Axes will be extra effective in the Soldier Area. Lances and Scythes will be extra effective in the Lancer Area.

There are no weapon types that are extra effective in the Cleric Area.
If a weapon that fits your Class is not equipped in your main slot, weapons that fit your Class that are equipped to sub slots will not receive stat boosts.
Tower Warriors/Warrioresses
Edit
The accompanying CPUs have "Tower Warrior" and "Tower Warrioress" as their names. The stats of these accompanying CPUs depend on the player's stats, which includes ATK/DEF/MATK/MDEF, Elemental Offenses and Defenses, and will also have the Monsters players have equipped. They are able to use a player's equipped Monsters during the quest. CPUs will also receive the stat bonuses players get for equipping the appropriate Weapon Type for the Class of the quest as their Main Weapon slot.
Players' Gear's Skills are copied and used by ally CPU characters. However, Attack-type Gear Skills and Attack Opening Gear Skills are changed when used by CPUs. They are converted into the following:
1F - 15F


Accessible to all Classes

16F - 20F




21F - 25F




26F - 30F




31F - 35F